Remember when I talked about getting myself a new planner (had especially thought about
these ones
) and also when I showed you some great
Valentine's cards
I found on etsy-store
NINJ & NINJ
?
Well I've got exciting news for you all: the amazing Niki and Jenna behind this lovely shop
are hosting a giveaway with me, and one lucky winner will receive their really cool & cute
"Quit Slackin' and Make Shit Happen" -print with frames !
(I think it's really inspiring print, "get up and do it already"-kind of thing! :)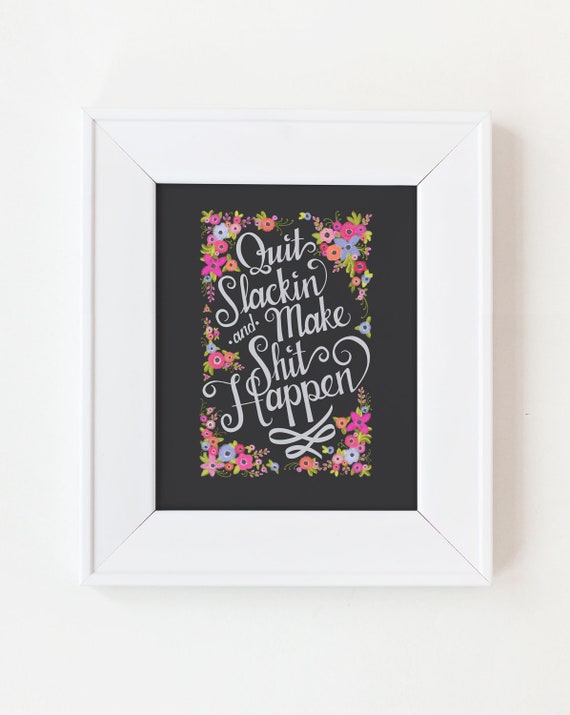 To enter:
- like NINJ & NINJ Facebook page
HERE
and share it publicly on your wall
- comment under this post with your Facebook-name
This giveaway is open worldwide, until next Friday, March 22.
Good Luck !
xx and check out their
etsy -shop
! xx
FIN:
Muistatteko kun etsin kalenteria tälle vuodelle ja
nämä
olivat mieluisimpia vaihtoehtoja,
Nytpä minulla on teille jännittäviä uutisia, nimittäin mahtavat Niki ja Jenna tämän ihanan kaupan takaa
järjestävät kanssani arvonnan. Yksi onnekas voittaja saa ylläolevan printin kehystettynä !
Osallistumisohjeet:
- tykkää NINJ & NINJ Facebook sivusta
TÄÄLLÄ
ja jaa se julkisesti seinälläsi
- kommentoi tähän postaukseen Facebook-nimesi kanssa.
Tämä arvonta on kansainvälinen ja avoinna ensi perjantaihin, 22. maaliskuuta saakka.
Onnea arvontaan !
(Ps. There's also another giveaway going on their Facebook-page, so if you really really
want to have this cool printed art then here's how you can enhance your chances:
Share
THIS
photo and comment under it. That one is open until March 19. :)
FIN:
(Ps. Jos haluatte kasvattaa mahdollisuuksianne voittaa tällainen taulu,
on myös toinen arvonta: jakakaa
TÄMÄ
kuva ja kommentoikaa sen alle. :)